Reviews index

June 16th, 2012
Excursion
Ezra Pound at Brunnenburg, Dorf Tirol



This is the fourth year that the Society's Annual Outing has followed the theme of literary pilgrimages, following in the footsteps of famous writers in the English language. After two successful trips last year, to Vorarlberg in the footsteps of the Scottish travel writer Norman Douglas, and to Lake Garda, in the footsteps of English writer D.H. Lawrence and his partner Frieda, 16th June saw a party of 31 on its way over the Jaufen Pass to Dorf Tirol, to trace the history of the American poet Ezra Pound.
En route stops were made at the top of the Jaufen Pass to admire the view, in the company of many cyclists and motor cyclists who were taking advantage of the fine weather for a memorable day out, and at the Sandwirt in St Leonhard in Passeier, birthplace of Tyrolean freedom fighter Andreas Hofer.

On the day, the patriot was overshadowed by the arrival of a convoy of classic cars from the Bozen Classic Car Club rally, much to the excitement of President and tour leader, Andrew Milne-Skinner, himself a great classic car enthusiast, and other club members.



After an al fresco lunch in brilliant sunshine in Dorf Tirol, the party walked down the steep path to Brunnenburg, soon to be officially named 'Ezra Pound Way'.
An American, Pound was erudite and very well read. During a period in England in the early years of the 20th century he championed T.S. Eliot and gave him much help in editing his epic poem The Waste Land (1922) and preparing it for publication. Later, he was also to encourage the young Ernest Hemingway, the subject of an earlier Society pilgrimage. Indeed this is arguably his greatest literary contribution, championing English-speaking poets and writers of the first half of the 20th century.

Pound's life was not without controversy. Educated in the USA, he soon travelled to Europe and established himself as a poet and a critic. In London, he associated with many of the leading writers and intellectuals of the day, including James Joyce, W. B.Yeats and Ford Madox Ford. During a stay in Italy, where the Pounds moved in 1924, he became enamoured of Mussolini's politics and championed him and Hitler, his political activities becoming more and more obsessive. At the end of World War II he was captured by the partisans and given up to the Americans. He ended up in psychiatric hospital in the States until 1958, having been pronounced 'unfit to stand trial'. It is likely that he psychologically disturbed. Perhaps a compromise was arrived at to deal with his treasonable actions: an actual verdict of treason could have resulted in a death sentence, as indeed it did for William Joyce (Lord Haw Haw). While in hospital Pound continued to work on his poetry and his translations. In 1948 Dorothy Pound was permitted to travel to Washington to be her husband's companion. In 1949, amid much controversy, Pound was awarded the newly-launched Bollingen Award for Poetry for The Pisan Cantos.

Pound also had a rather complicated personal life. His son Omar, conceived in wedlock with his English wife Dorothy Shakespear, was born only a few months after Mary Rudge, daughter of Pound's violinist lover Olga Rudge, whom he had met in Paris. While Omar was sent to an English public school, Mary, born in Brixen, was given to a family of farmers from Gais, near Bruneck to be raised. In due course Mary married Prince Boris de Rachewiltz. Together they bought the semi-derelict Brunnenburg, which lies just beneath Dorf Tirol, and restored it as a home. Pound was to live there, with his wife, together with Mary and her family, on release from psychiatric hospital. (Following a campaign in America and Europe, his indictment for treason was dismissed in April 1958). He spent most of the rest of his life moving between there, Rapallo and Venice until his death, in Venice, in 1972 at the age of 87.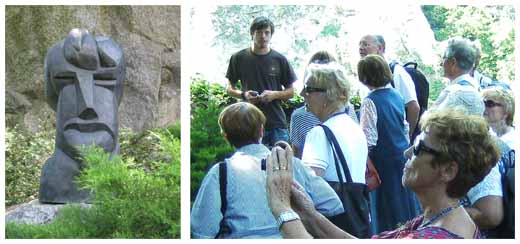 The group was privileged to meet first Ezra Pound's great-grandson Nicholas, who is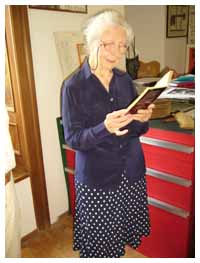 studying viticulture and runs the family's vineyard. He showed us a BBC TV programme from the 'Monitor' series of 1959, made shortly after Ezra Pound returned to Brunnenburg, which showed him walking around the castle and talking, sharing his thoughts about life and his art. An even greater privilege was the time which Princess Mary de Rachewilz, his daughter, now a sprightly and erudite octogenarian, most generously spent with us, sharing some memories of her father and their life together at Brunnenburg. Given the rather complex relationships involved, this was not without its difficulties. To listen to her speaking and reading from her father's works was to experience living history. She read to us from his great work The Cantos and showed us round the atmospheric castle, which has a wonderful library and is full of Pound memorabilia.

We were surprised to hear that not many visitors who are interested in Pound's work visit the castle, and hardly any Americans. She was clearly touched at the interest showed by the group, as we were by her gracious welcome. The years sit lightly on Princess Mary de Rachewiltz, and she shows no rancour at her early separation from both her parents. She is a proud and knowledgeable custodian of her father's literary achievements and we hope she can carry on this work for many years to come. We thank her most sincerely for a special and memorable day.

'At his finest, Pound recaptures for poetry a hint of "that radiant world where one thought cuts through another with clean edge" which he found in Dante and Cavalcanti.'

The photographs show scenes from the trip and from the visit to Brunnenburg and show Princess Mary de Rachewiltz reading from her father's works to a rapt and most appreciative audience.



Sandra Milne-Skinner

---

Sat 29th June 16:00

BBQ at Zeiner's

at Hazel's Home,
Birga 50, Birgitz