Why should you join?
You can learn more about Britain and British ways of life
You can borrow from a well-stocked library of English language books and from our audio and video library
You have the opportunity to speak with native English speakers at events
You can regularly see English language films and have an opportunity to discuss them afterwards
If you are a student looking for jobs using your English it might be good to have membership of the Austro-British Society on your CV
Why not join us and take part? (see here: 'How to join?)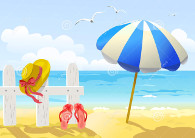 It's summertime ....
See you again
on Tues September 11th