Reviews index

June 5th, 2012
Queen's Diamond Jubilee
Classic Car Concours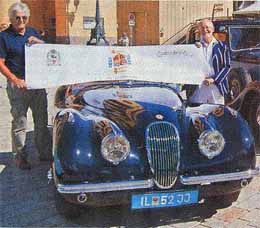 In recognition of the Diamond Jubilee of Queen Elizabeth II, Society Committee Member Dieter Jenewein, an OeAMTC Oldtimer Club member, organised a concours of British classic cars through the streets of Innsbruck on Tuesday 5th June, in Jubilee week. With the exception of the Mark II Jaguar owned by Society President and proud Scot Andrew Milne-Skinner, all those cars taking part were owned by Austrian OeAMTC members, among them Club President Hans Santer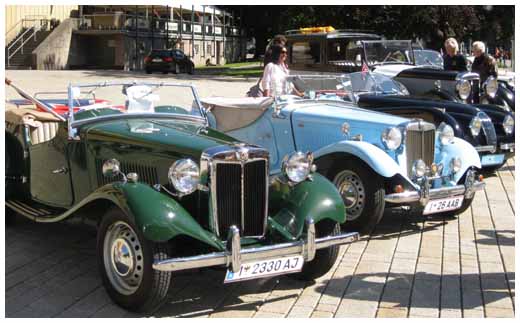 The impressive line-up parked in front of the Landestheater, to be admired and photographed by many passers-by. The oldest car in the group was the 1934 MG; the 1970s Austin Healey Sprite was the youngest. Among the group were two cars from 1952, the year of the Queen's accession to the throne. The concours concluded with a trip back through the city to the Austro-British Society clubrooms in Buchard Breitner Strasse where traditional English afternoon tea and cakes were served to the participants.
The concours caused enough interest to feature on the front page of the 'Lokal' section of the next day's Tiroler Tageszeitung, with a half-page picture spread showcasing the best of British 20th Century motor engineering.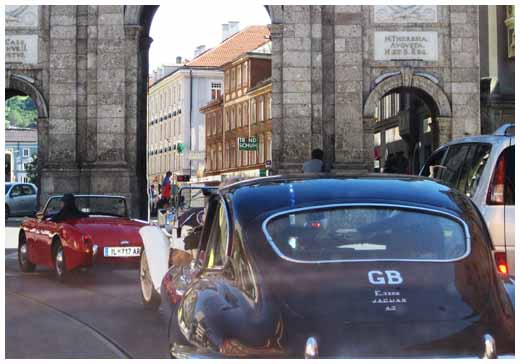 The pictures show passers-by admiring the line-up, followed by individual pictures of all participants, and finally the concours passing the Maria Theresia Arch. Our thanks to the OeAMTC Oldtimer Club President and members for their co-operation and participation in this event.
Sandra Milne-Skinner

---

look at "

"
---
english Films and Special Discount for members





Registration for Excursion
by 15th March



February Tues 12th 17.00

Shrove Tuesday: Pancake Race
Society Rooms